Just this week actually, we have lived in our house for six months.
I honestly can't believe it's been that long, and at the same time, it feels like we've been here for years.
We've made a ton of updates to the house since we've been here, but it for sure feels like every time we cross off one item, I add another one to the list.
We are still not sure about how high a priority our outside space is. We had a quote come in for our screened in porch that was honestly 3x what we were budgeting - and now I'm thinking about giving it some time before we screen it in anyhow.
And if that's case, can't I use that budget in other places? ;)
The few things I'm obsessing about lately are window treatments in our guest bedrooms (actual necessities because we've literally hung sheets up when guests have stayed over which kills me), installing a gas converter into our fireplace (a not fun job that costs quite a few hundred dollars and will be done in the fall), changing out our door knobs/hinges, and lastly a new chair for our living room.
I think the first job to be done is to have someone install , or order (does anyone have good expierence with Blinds.Com or HomeDepot DIY?) basic 2" wood blinds on both of our huge windows upstairs.
And after that job gets done, then I really want to pull the trigger on a chair for this spot.
I'd like to move the table with the lamp on it to to the side of the fireplace, and create a cozy little corner that will really complete and fill out our living room.
The colors in my living room, I think, would do really well with an oversized, buttery soft, broken in leather chair, so that's what I'm on the hunt for.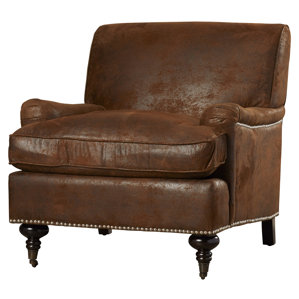 Christmas is around the corner, right????