I'm so excited to be co-hosting "Thoughts For Thursday" with Annie from Home of Malones and Natalie at East Coast Chic. These are two my new favorite blogs and I love creeping on them and they're beautiful homes, babies, and outfits! Check um'!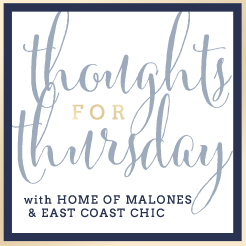 ::: My favorite "thought" of this week comes in the form of a $30 milk frother that I bought at Bed, Bath, and Beyond.
I've been drinking Cafe Au Lait's (Regular coffee with steamed milk) at work, and decided that I could just as easily make them at home. I brew regular coffee out of my Keurig, microwave a tablespoon of milk and then froth it with my nifty little gadget. It's been a major game changer over here.
::: I could not put this book down. I love Sarah Pekkenan, and I think this was my most favorite of her's recently.
::: On that thought, I didn't really love The One and Only. It was good - and I finished it, but it wasn't anything that really moved me or had me staying up into the wee hours of the morning to read. Below average.
::: Ladies of London on the other hand - Above Average!! How freaking cute is Marissa?
::: With the house updates, and some very necessary closet updates, I just cannot stop shopping. I'm in need of some new workout gear, and since I start training for the half marathon in the next few weeks, I'm hoping some fun goodies from Lulu will help motivate me to kick it into high gear.
::: I'm going to Chicago next week for a wedding shower and cannot wait to be back home. It's been way too long and I'm literally counting down the hours.
::: I've made this cucumber salad twice this week because I just cannot get enough. It's so refreshing and so easy.
SkinnyTaste.com
is like my mecca for recipes.
:::Somehow, this Sunday, Joel and I will celebrating our one year anniversary. It actually scares me how fast this year flew by, and it's wild to think about where I was one year ago on this day.
::: Happy Thursday everyone!
Let me know what's on your thoughts and link up here: