::: Every year, my moms side of the family spends a day baking a bunch of apple pies and then we freeze them for all of the holidays. Ironically, none of us are that big of pie fans, but it's become a tradition over the last ten or so years - so there's no stopping now. And it's a really fun day for all of the family to be together before the holidays begin
::: Have you listened to the Cat and Nat - podcast? I think it's new, there are only 5 episodes out, but I love it. It's all about how they became self made millionaires. I binged listened to all 5 yesterday while I washed all of our interior windows. This weekend we are going to tackle all of the outside ..... which should really be a thrill.
::: Did I ever post any finished basement pictures? We ended up doing two coats of Revere Peweter - and it really brightened up the space. Ideally, I'd like to put down some large carpet remenants just to warm the space, but for now - we're pausing. In the new year, Joel and his dad are going to drywall the rest of the exposed walls and are going to build a little wet bar downstairs too.
::: Can you believe Christmas is kind of around the corner? Which also means Drew is going to turn ONE!? How is that possible? She's about to walk, she's saying a lot of little words (at random times) - mama, dada, baba, and hi....and overall and most importantly she is just a delight of a human being. She has the happiest, sweetest energy, and we couldn't imagine a day without her.
::: Because I'm crazy, I've decided to host a little birthday brunch for our baby girl, as well as host a formal Christmas Eve dinner for +30 people! Ha! You may not be hearing much from me in the coming weeks.
::: Along with having a super jam packed calendar - of really fun stuff I do want to recount here - I'm trying to get our family year book made, Drew's birthday book created, and finish a 2019 family calendar for everyone. I've been spending a lot of my free time on Shutterfly and it's freaking time consuming. I may back-burner the year book and baby book for January and just take it off my list. In fact. I think I've just decided that's the plan.
::: I have always been a hater of the Pumpkin Spice Latte trend....but this year....I'm kind of loving them. They're the perfect sweet, spicy, coffee-y deliciousness. Thankfully they're expensive as all get out or I'd be getting them way more frequently ;)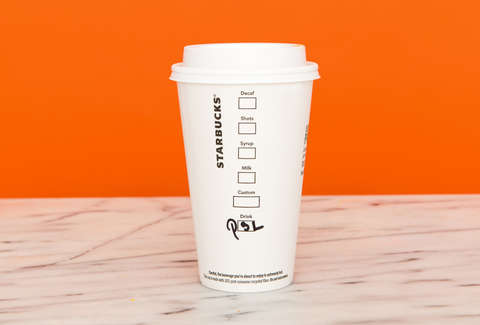 ::: It's taking everything in me not to decorate for Christmas this weekend! I know it's early, but I love it, so I'd rather enjoy it for a longer period of time. We are rocking Christmas music, and I took all of the Halloween stuff down, so I think next Saturday will be the day we deck the halls!
::: This is a LONG shot, but does anyone know how to convert an image saved as a NEF to a JPEG file without having photoshop or lightroom?
::: I made the easiest dinner this week - Crock Pot Buffalo cups. I served them with a broccoli slaw and a creamy blue cheese dressing.
The next day, we were out of butter lettuce cups, so I served it as a salad over arugula and loved it. Couldn't be easier either - chicken breast in the crockpot with water until it shreds, then mix in Frank's Buffalo sauce. That's it.
::: Leo is on a major art project kick. He loves practicing with scissors, painting, coloring, and taping. It's been fun for both of us - and really nice when I can get him into something while I'm cooking dinner or having a glass of wine. He did dot markers with my mom this week - and this little art project really impressed me!
::: Do you ever get wine from Trader Joe's? We have always had great success with TJ's private label. They used to sell their brut champagne for $9.99 and I swear to you it tasted better than most $25/30 bottles. They recently upped the price to $14.99. BUT - another great $10 buck wine is this one. I had it at a girlfriends last week and can't wait to go stock up.