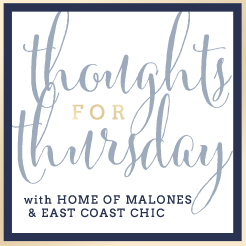 ::: It blows my mind that next week, last year (
ya follow me?)
I took a pregnancy test at 5:00 in the morning and found out that I was pregnant with Leo.
::: And because I'm insane, I'm
already
nervous/anxious/scared for my next pregnancy. Will that go away?
::: Joel is out of town for one night this weekend so I'm flying solo for the first time with my buddy. I feel confident enough now that I can successfully do it alone and not want to jump! I think 3 months is when the tide really turns for new moms.
::: Ok, last thing about moms....Do you follow
The Lunchbox Diaries
and/or
Olive and Tate
blogs? They did this really cool blub video on Tuesday night, and I loved it. It was an hour long live chat where they answered questions and just talked about taboo mom topics. It was refreshing and funny and hit home for me. I really wish these girls lived next to me because they are my kind of girls/friends/moms/people/etc. If you have an hour - check it out
here
.
::: Saturday I'm spending the day with my cousin stocking the freezer. She is expecting her first baby at the end of April, and I have found freezer meals to be life savers, so we're going to make a day of it. I have a few stand by freezer meals (Chili, Meatballs, Enchiladas, etc.) but I'm thinking about trying a few new recipes. Do you have a simple one that you like? Ideally carb free?
::: Going light on the carbs hasn't been too brutal, and I'm seeing a teensy bit of results
(i.e. a few pounds that I gained over Christmas are starting to drop).
I really wish I had the time to be clocking in daily hardcore workouts, but the day starts at 6 and I don't stop until about 7pm. At that point, I just can't fathom going to a class or taking a run. Leo and I take a long walk everyday, and I try to get in hard workouts over the weekend, but it's a lot tougher to find the time than I expected.
::: I really want some black gym shoes. My sister in law had a really cute pair from
Asics
, so I'm trying to decide if I want the asics pair or the
nike pair
. I end up wearing workout clothes at least 2x a week, and I never have the perfect shoe to wear with so I'm thinking I'm going to have to make an investment soon.
::: I'm obsessed with Snapchat. I think it's because I'm alone all day, but I check that app more than any other social media site. It's just such a cool look inside peoples lives and I reallllllllly like that it's very unedited. My favorite account to follow is "HappilyEvaAfter". Eva is Susan Sarandon's daughter, and she has an adorable daugher herself (Marlowe) and a really cute blog
"Happily Eva After"
::: I'm so excited about Superbowl weekend! I don't have any affiliation with either team....Joel is rooting for the Broncos because of Peyton....which meansI'll have to root for the Panthers just to piss him off ;) But really, I'm most excited for the snacks and commercials. We have friends in town from NY who will be joining us, so I'm going to make a few really easy appetizers that can be made ahead so I don't have to think about it. Any excuse to eat, drink, and party on a Sunday is just fine by me (and gets me excited for the Oscars!)
Happy Thursday!