Apparently I had such a good time celebrating my birthday, I really failed to take a lot of pictures.
On Saturday morning, Joel and I dropped Leo off at his grandparents and drove into the city to spend. We met up with my sister briefly when we parked near her apartment in Bucktown, dropped our bags off at the hotel we were staying at (The Robey), and then made our way straight to Anker for brunch.
Brunch was awesome. I had a few cups of coffee, Joel had a few beers, and we ordered the pimento cheese and pickles (my favorite), oatmeal pancakes, and french fries with a few awesome dipping sauces.
We took our time at brunch with felt like an indulgence on its own, and then took an uber into the loop so that I could do some shopping at Bloomingdales and Nordstrom (whom was serving Moscow Mules in the women's department!).
I didn't have tons of luck shopping, but I'm kind of obsessed with what I did get.
I've already worn both all week, so it was absolutely money well spent.
When we got back to the Robey, we relaxed for a bit and then we met up with my sisters and cousins for a drink. The cool rooftop bar (the Up and Up) was closed for a birthday party, but Hannah surprised us with a table and bottle of champagne while the crew was setting up. We didn't mind and it was a really fun way to kick off the night.
After drinks, Joel and I had a fantastic dinner at Momotaro.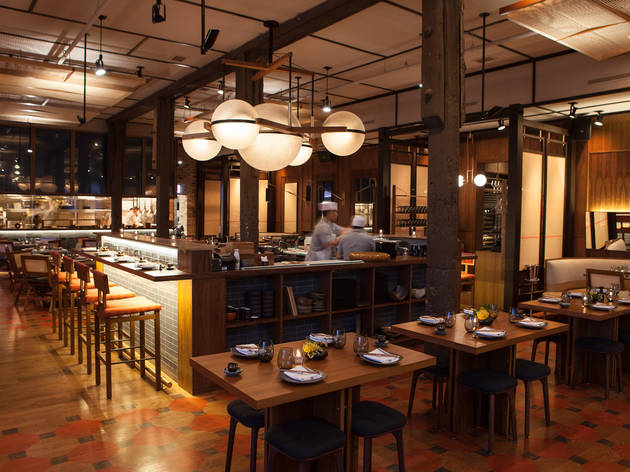 It's quite the spot, total scene, but the food was amazing. We did order a few too fancy of rolls, but overall, we thought it was awesome, fun, and a spot we really want to hit up again.
Sunday morning we slept in until 9:30 (!!!), thank you black out shades, and then decided to take a walk and get donuts and coffee at Stan's.
We love Stan's...and we used to go to the original location in Westwood (back in LA) all the time, but this Stan's in Chicago is even better. They're coffee is amazing and they have way more crazy flavors to choose from. The buttermilk bar was our favorite - but I don't think you can go wrong with any.
As we left to walk off the donuts, about 5 blocks into the walk Joel realized that I had been walking without my purse. I don't know what the heck I was thinking, but I had left it on one of the hooks under the community table. As I sprinted back to the shop, I called them and thankfully the guy had spotted it and had put it under the cash register. Total idiotic move that could've ruined the entire weekend, but thankful for a good ending!
We met my family in Elmhurst for brunch with my cousins and then on Monday celebrated with pizza, good wine, and strawberry rhubarb pie at my parents house.
It was a perfect weekend....and I am so excited to test out my new birthday wheels with Leo!