::: A small clutch :::
I don't carry my big purse anymore since I haul around my diaper bag, so this little clutch has been a MAJOR must have. It's the perfect size to hold my essentials, and when I don't need to take my diaper bag somewhere, it's cute enough to sideline as a clutch for the evening. Mine is from a small boutique here in LA.
::: Sugar Daddy :::
......and I do mean the nail polish.
I used to treat myself to fun manicures every week and loved changing the color, but now it's a treat when I can sneak away to get my nails done, so I always have to go with a clear polish so it doesn't chip and show wear so quickly. I've found Essie's Sugar Daddy to fit the bill the best.
::: The Velvet Devil :::
Lately I've found myself a little "over" California and more so enjoying Italian and Washington reds . This bottle (a Washington Merlot) is a pretty cheap option at $12/13ish a bottle - and a screw top which makes it possible for an emergency one handed pour so it's been making its rounds here a lot lately.
And since we can't leave out the little Prince...lately these have been Leo's must have's lately too.
::: Footed Outfits:::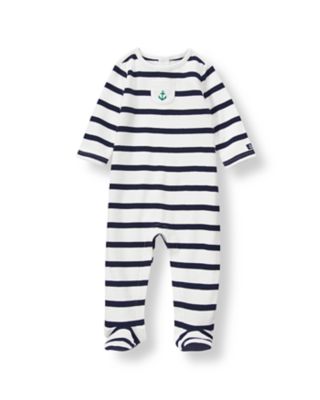 Ok, so Zutano botties en route, but I still find footed outfits to be the best options for Leo in this season. Footed PJs are easy to find, but footed outfits and pants are basically impossible! I was at Nordstrom yesterday and found a few pieces that I scooped up for the next month, but Janie and Jack is really the only other spot that I've had luck at.
::: Kick Mat :::
Leo is a reallllllly active little guy. He's constantly kicking and swiping and moving, and anything that contains him when he should be awake (like the swing) only keeps him happy for 5 or 10 minutes before he craves an area to burn some energy.
This
little kick mat has been the perfect addition to his play area and I think it should keep him happy for quite some time.
::: Boon Bath Tub :::
When I was pregnant, I spent countless hours researching which bathtub to buy. Just like with strollers, I think the choice comes down to your lifestyle and the space you have for all of this baby stuff.
We don't have a lot of space to work with, so I couldn't afford to have one of those humongous tubs that I wouldn't be able to hide. The
boon bathtub
has been a Godsend for us because it folds flat and can hang on the back of the bathroom door. It's the perfect size for Leo and for a while worked well on just placed on the floor of the bathroom. I've moved it into the bathtub since he's a splasher, but its his favorite time of day and was worth the investment no doubt