With the weather being so unseasonably hot, it's hard not to feel like summer has arrived here in LA. The birds are chirping, the summer smells have arrived, and it's way too hot to wear jeans. It's throwing my mind for a major loop, but I'm trying to live like I would if I were vacationing here, and what better way than dining al fresco?
If you're local to LA, Napa Valley Grille in Westwood has the best kale salad ever.
I'm also really trying to #lovewhereyoulive. I had started trying to convince Joel that we should move, and when he asked why, I really couldn't think of a reason. We live ten minutes from the cutest town, I just sometimes forget that it's there and that I can walk to it! I've walked down twice this week and once to visit the farmers market (see? It's adorable!) and I'm looking at it with such fresh perspective.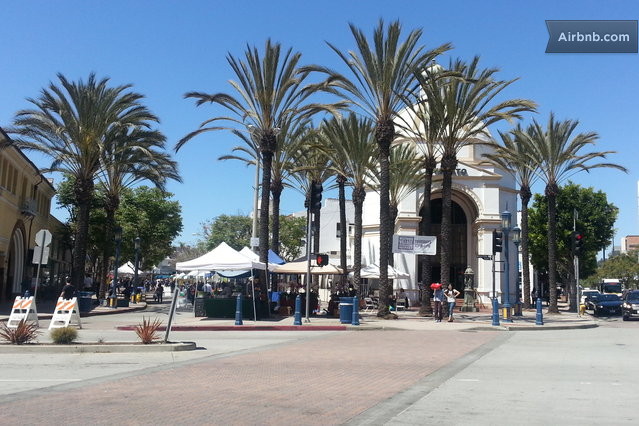 With all of the hot weather in LA we had a pretty scary forest fire. We live far from the mountains, but on my run yesterday the sky was milky brown and I could actually taste the soot and debris.
Today is Roscoe's 2nd birthday! Roscoe brings so much joy to our lives, I honestly don't know what we would do without him - or what the hell we talked about before him! He is such a loving member of our family and our lives are much richer with him in it. We got very, very lucky just two years ago.
The weekend is starting a little early today with some girlfriends and margs at my favorite Mexican restaurant in Santa Monica, El Cholo. The rest of the weekend is slated to be pretty low-key. I've got SoulCycle and a hike planned, and that's pretty much it. See ya Monday!
And holy shit, this quote really hits home.