Reality TV is one of my most favorite guilty pleasures - although I don't feel guilty watching it all. The wine I drink during it is a different story.
Here are a few of the "reality" shows the stock up my DVR.
1. Kathy and Hoda Lee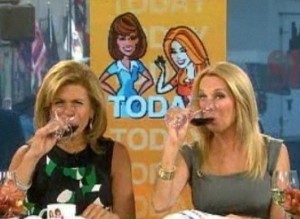 Is this reality? I don't know, but I love them. They have such a positive energy every morning, have interesting, and engaging segments, and they drink wine at 10:00 in the morning. I think I could hang out with them both for a long weekend in the Hamptons.
2. RHONJ (and all other RH franchise's)
TELL ME YOU ARE WATCHING THE REUNION. This shit is crazzzzy. I do have to say, it is so freaking frustrating to watch because of Theresa. I think other ladies would have a better chance of knocking sense into a brick wall than this moron.
3. Watch What Happens Live
The pairing of guests on this show is why I think it's so just damn successful. It's kinda cool to see a reality star team up with an actual celebrity and see how both parties act. I'm not a late night TV fan, but Andy has a way of capturing my every spare minute.
4. Married to Jonas
Very interesting. Not a fan of Dani, aka. Mrs.Jonas, or Kevin Jonas for that matter, but I can't wait for the show every week. They are real (for now), seem have their heads screwed on (for now), and Dani's dad makes me laugh and cry every episode.
5. 19 Kids and Counting
I know this is crazy, but they make me want to move onto a ranch in Arkansas and just live the simple life. Everyone is always so happy go lucky, and it seems as though the real stressors of the world don't affect them. Their lifestyle is so different than any other family I've ever known, and I eat their crazy story right out of their newly rich hands.
6. Sister Wives
Why? I mean, really - I clearly have no taste in TV....but....I love them....The drama, the lack of wine, the long haired husband....Come on now! It's genius!
Ohh....and then there is Guiliana and Bill (of course), Tia & Tamera, House Hunters, Selling NY & LA, anddddd Every show ever played on Bravo...
This list has done nothing more than quite honestly embarrass me, and if I had another idea for a blog I would erase this all - but I don't.
Tell me, (besides the fact that I need to get my own reality) what shows do I need to add.
Honey Boo Boo?